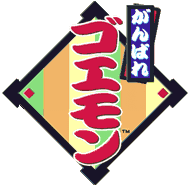 The Series where it all began. Created by Konami in 1986, Goemon has featured in a vast amount of games over the years. His first title was called "Mr.Goemon" for Arcade systems. Back then, Goemon looked much more different than he does today as he resembled more of an ancient Japanese art piece. Bear in mind he was based on a real person!
(This person being the Folklore hero, Ishikawa Goemon)
Soon after Goemon arrived at the Arcade, a Famicom game was made around the same time which featured slightly different gameplay. From there on, Goemon started to become very popular and thus more Famicom games were made, also introducing new characters and features such as Ebisumaru and 2 Player functionality. Over the next generations of consoles, Goemon made his appearance on a number of occasions with the games adding Sasuke & Yae to the team and evolving from 2D to 3D.
Around the late 90's Goemon was at his peak of popularity when the N64 games were released. The following games after that did alright, but Goemon's reign of popularity soon died down in Japan. Konami attempted to try and resurrect the franchise by creating the other 2 series, but none really lived up to expectations.
After a gap of 4 years, the release of the Nintendo DS made Konami unveiled a new Ganbare Goemon DS game. This time, they had gone back to the original style of the series. The game was released in Japan on 23rd June 2005 and was rumoured to be released worldwide aswell just as Goemon: Bouken Jidai Katsugeki had. However, Sony felt Bouken Jidai Katsugeki was too "primitive" graphically to be allow world-wide release.
Although Goemon may not be as active as he has been in the past, Konami do surprise people by releasing a new game. Most recent being the Goemon Panchinko machine. Let's hope that Goemon will continue to live on for many years to come!

Characters



Mr Goemon (Arcade/1986)
Ganbare Goemon: Pachisuro (Arcade/2009)





Ganbare Goemon Karakuri Douchuu (FC/1986)
Ganbare Goemon 2 (FC/1989)
Ganbare Goemon Gaiden: Kieta Ougon Kiseru (FC/1990)
Ganbare Goemon Gaiden 2: Tenka No Zaihou (FC/1992)





Ganbare Goemon: Yukihime Kyuushutsu Emaki (SFC/1991)
Ganbare Goemon 2: Kiteretsu Shogun Magginesu (SFC/1993)
Ganbare Goemon 3: Shishijyuurokubei No Karakuri Manji Katame (SFC/1994)
Ganbare Goemon 4: Boku ga Dancer ni Natta Wake (SFC/1994)
Soreyuke Ebisumaru! Karakuri Meiro - Kieta Goemon no Nazo!! (SFC/1996)




Ganbare Goemon: Sarawareta Ebisumaru! (GB/1991)
Ganbare Goemon: Kurofune Tou No Nazo (GB/1997)





Ganbare Goemon: Tengu-to no Gyuakashu (GBC/1999)
Ganbare Goemon: Mononoke Douchuu Tobidase Nabe-Bugyou! (GBC/1999)
Ganbare Goemon: Hoshizorashi Dynamites Arawaru!! (GBC/2000)





Famicom Mini: Ganbare Goemon Karakuri Douchuu (GBA/2004)
Ganbare Goemon 1 & 2 Kessaku-sen! Yuki-hime to Magginesu! (GBA/2005)




Ganbare Goemon: Uchukaizoku Akogingu (PS/1996)
Ganbare Goemon: Kuru Nara Koi! Ayashi Geikka no Kuroi Kage (PS/1998)
Ganbare Goemon: Oedo Daikaiten (PS/2001)





Ganbare Goemon: Neo Momoyama Bakufu no Odori (N64/1997)
Ganbare Goemon: Derodero Douchu Obake Tenkomori (N64/1998)
Goemon Mononoke Sugoroku (N64/1999)





Ganbare Goemon: Toukai Douchuu (DS/2005)