Goemon and other related characters are © Konami. Direct linking to any part of this website is strictly prohibited and illegal as it wastes our bandwidth.

Anime Episodes:

The Ganbare Goemon Anime is owned by Konami & TBS. It is illegal to download the Anime Episodes if you do not own the original DVD/VHS volume for the Episode(s) you intend to download. If you do not own the original copy, then by law you should delete it immediately, Goemon International & its staff will not be held responsible for any prosecution.

Rom/Isos:

ROM & ISO files are only legal for download if you own the orignal Cartridge, CD or other medium if for backup purposes. Should it be the case in which you do not own the original hard copy, you must delete the file(s) within 24 hours. Again, Goemon International's staff will not be held responsible for your actions.

Videoclips:

The majority of videoclips were created/extracted by the Goemon International staff. However, some videoclips that are owned by Konami may be illegal if miss-used. The videoclips were created for this site only, you must contact us if you want to upload any of our videoclips onto your own site. Please note the clips are for private home-viewing only, you are not allowed to show any of these clips at events, public places etc.





Frequently Asked Questions

Q: Can you send me high quality AVI of every single Goemon episode, in both languages?
A: Absolutely not. We did not put up the episodes so you could create bootleg DVDs. If you want the episodes that much, buy the DVDs, they don't cost much!

Q: When I try to access some media, it says "REPORTED ATTACK SITE"! What does this mean?
A: If this happens, do not worry. In the bottom-left corner, press "Ignore this warning". The reason for this message to appear is because of our media host, "Freewebtown". Freewebtown host many people, but some people abuse this, giving Freewebtown a bad name. This is nothing to do with our site so you need not worry. (This should not be an issue in GIv2)

Q: I noticed in your Goemon TV 20th Anniversary Special that there's a clip of Goemon being played on the Nintendo Wii, do you know anything about possible releases for the Virtual Console feature?
A: I'm afraid we do not know if Mystical Ninja Starring Goemon or the other N64 titles will be on the Virtual Console. That clip was purely just made to give the viewers an idea of the possibilty. Also, if the game was from the Virtual Console, you would not be able to control the game like that, you'd be using the Wii Classic controller: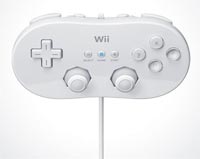 However, you can download Jingleboy's Wiimote script from the site, which offers similar controls. (Only with an emulated version of the game, that is.)

Q: When I go to download a file, it doesn't work and takes me to a Fileden page...
A: There are two potential problems here: Either the 5GB of bandwidth on that server has been used up for the month, or Fileden have deleted our files because we were too lazy to login after 30 days.

Q: The Goemon International Gaming Server is never on when I try to connect
A: Currently there are no plants to re-create the Goemon International Gaming Server. Sorry for any inconvenience caused.

Q: When I downloaded the Goemon PSX ISOs, it says they're corrupted
A: This is quite common. Essentially, the files are fine - However, while you are downloading, the server may happen to "time out" meaning that the download has stopped. Since it's stopped prematurely, it causes files to be "corrupt" or a "Bad Archive". It is recommend that you use a download manager such as "DownloadThemAll", so if you lose the connection it will resume without missing parts of the file.

Q: When are you gonna add "Such and such" to your site?
A: To be blunt, when we get round to it. To add something to the site we might need the original media. This costs money and may also be rare and hard to obtain. Want to donate Goemon-related material? Check out the contact page here.

Q: I want to help donate bandwidth/host your site
A: Well... We'd be grateful, but bear in mind if you do, that it'll only restore the particular files on each account. For example:
Goemon Episodes 1-5 : Account 1
Goemon Episodes 6-10: Account 2
As for hosting the site, while Freehostia hosts the main page, all our media is located on different servers and adds up to Gigabytes. We would not want to shove the cost of our site onto someone else, as it is our responsibility. Thanks, but no thanks.

Hope this answers some questions!
If not, please email us. (Email details are on the Contact page.)